Little Wenlock Village Hall
Thursday 17 March 2022
Little Wenlock Village Hall replaced a 20 year old oil boiler with a low carbon heating system.
---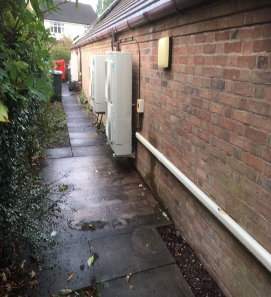 The Village Hall Committee engaged a consultant with expertise in renewable energy who recommended replacing an old ceiling-mounted cooling units in the main hall with a modern replacement which both heat and cool, using air to air heat pump technology. The grant helped to unlock funding from other sources to enable the project to occur. With funding from the Climate Change Fund, MarRE, Shropshire Rural Communities Council, the Parish Council and the Village Hall reserves the Village Hall are now the proud owners of two heat pump technologies – providing warm air for the main hall, and providing warm water for radiators in the remaining areas of the building.
This project has given Little Wenlock Village Hall an additional capacity of 43 kWp and a CO2 saving per year of 4.88 tonnes.
[1] http://www.sustainabletelfordandwrekin.com/get-involved/did-you-know/marre
[2] kWp is the peak power of a system.
[3] Based on using conversion factors from Marches Energy Agency regarding difference between the CO2 produced by the old and new heating systems