Seeds4TW – Growing Trees for the Future
Autumn is the perfect time to collect and sow seeds to start growing your own tree! Trees have excellent benefits to health & wellbeing, the local environment and reducing carbon in our atmosphere.
In line with the Tree Council's National Tree Week, this initiative aims to help improve the borough for many years to come, and is a great way to get the whole family involved in nature! You can find out more on this from the Tree Council here.
How can I get involved?
We'll walk you through the process step by step below, but it all begins with simply collecting seeds you find in your local area!
What seeds and trees can I find in Telford & Wrekin?
The dominate species within the borough are:
Maple (types include: Norway, Silver, Sycamore)
Oak
Ash
Beech
Birch
Hawthorn
Cherry
Poplar
Willow (types include: Goat & White)
Lime (types include: Common & Small-leaved)
Alder (types include: Common & Italian)
Pine (types include: Scots & Corsican)
See below to learn how to identify these seeds and trees!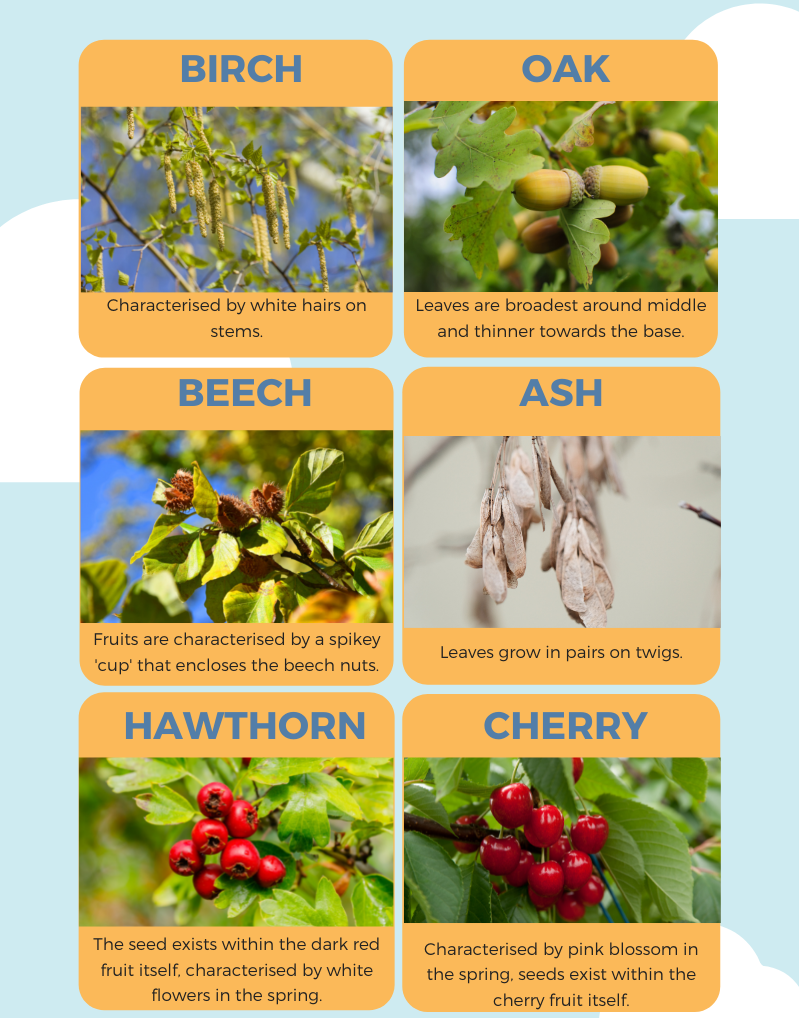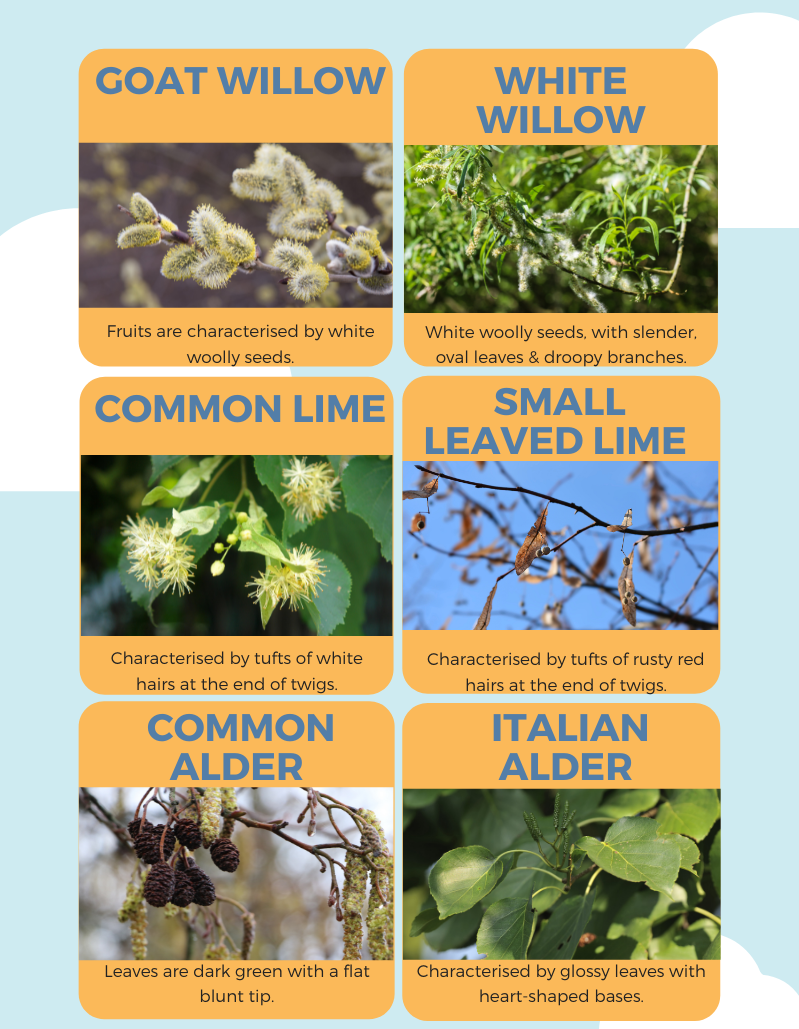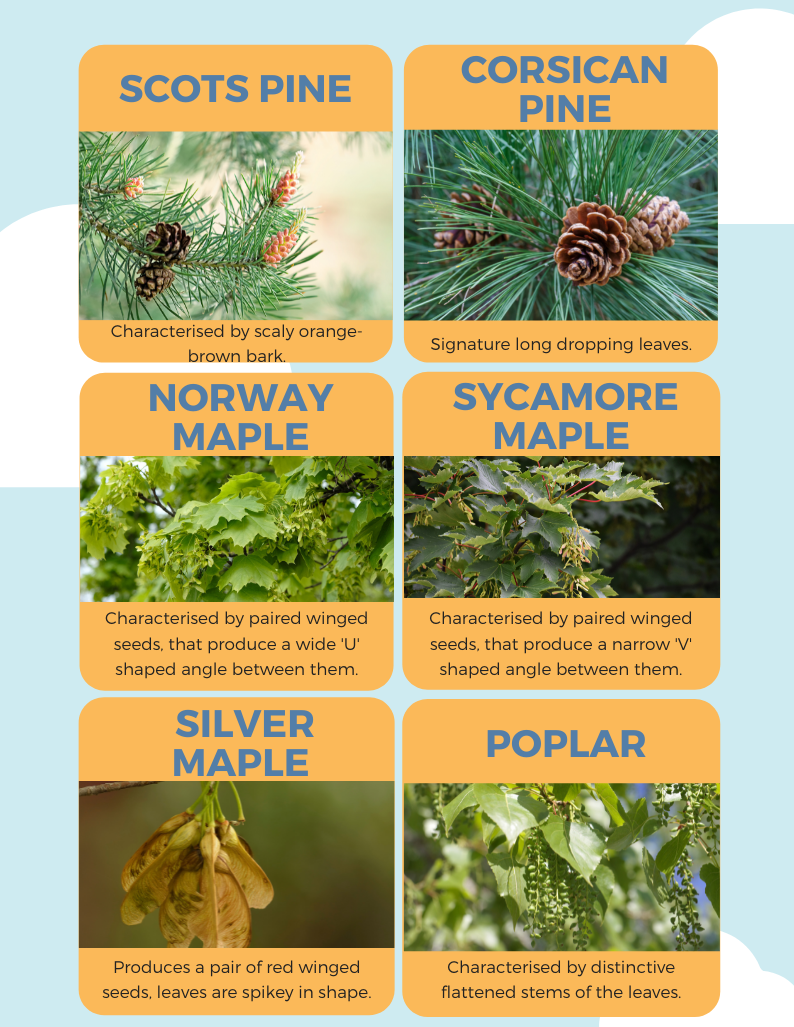 Where do I find seeds?
Telford & Wrekin is very lucky to have a good abundance of trees, so it shouldn't be hard to find trees and their seeds when you are out on a walk, even on the way to school or work!
However, if you are having trouble finding and identifying tree species why not follow this Telford tree trail? 50 Tree Trail - www.dothillnaturereserve-friends.com
When should I search and collect for seeds?
The seed collection season is ideally 23rd September to 23rd October, but of course you may fine healthy seeds before and after this period.
How do I collect seeds?
When seeds are ripe, collect from the ground under the tree. If none are on the ground you can try shake a low hanging branch gently.
Try using a paper or cloth bag to collect seeds, plastic bags may be moist which may later impair seed germination.
Use separate bags for different types of seeds and label each bag.
What materials do I need for planting?
You don't need much to start planting! And remember the importance of reusing household items!
A pot or container (try yogurt pots, toilet roll tubes, half a plastic water bottle etc)
Soil and compost (try peat free compost- available at garden centres or major retailers).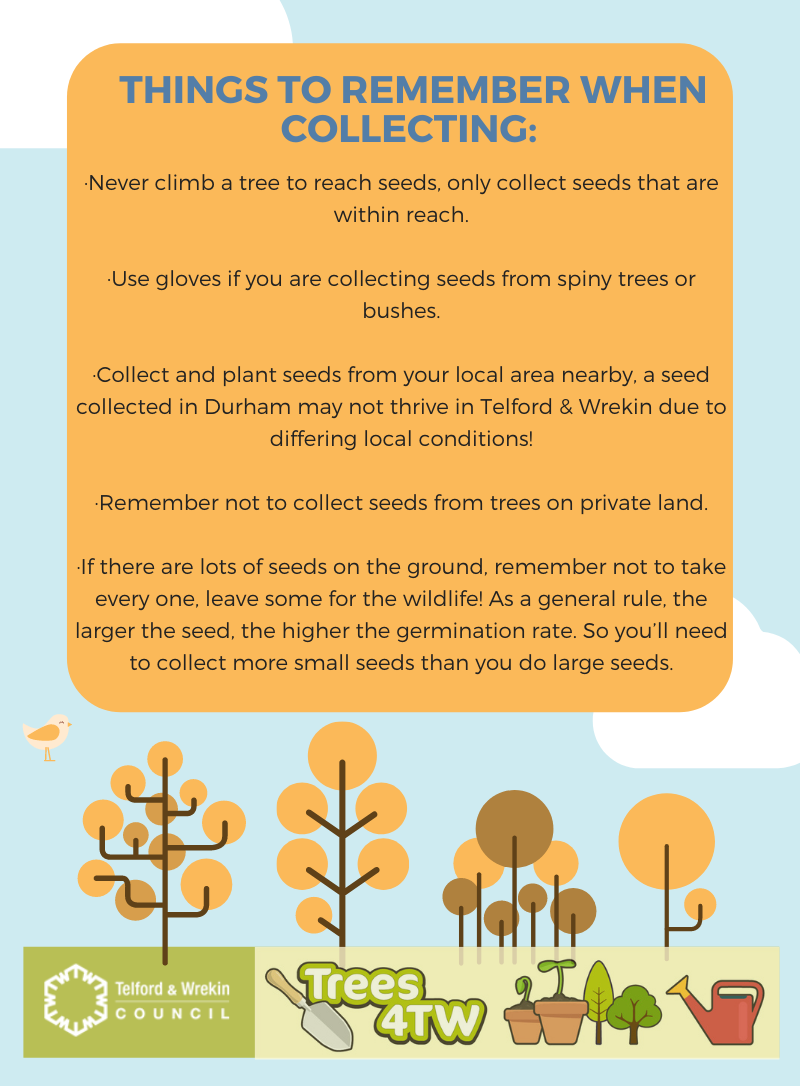 Watch our video below to learn how to plant your seeds!
How do I store my seeds?
Seeds should be stored in a cool, dry and dark place (tucked away in the refrigerator is ideal), in labelled paper bags within airtight containers. It is important seeds are kept dry, to prevent premature sprouting.
When should I plant my seeds?
Ideally you should plant your seeds as soon as you have collected them between September and October. Most seeds needs to be exposed to a cold winter to 'activate' them from dormancy. Therefore planting them at this time allows for germination and sprouting in spring.
However, if you choose to save your seeds and plant them at a different time of year, you should first stratify them. More information on this can be found here.
How do I prepare my seeds?
Please refer to the Tree Council here to learn how to prepare your seeds.
How do I plant my seeds?
Once you are ready to plant your seeds, refer here to the Woodland Trust's detailed instructions on how to plant your seeds.
When your tree is ready to be transferred to the ground, refer here for the tree council's guide to planting in the ground.
Remember: keep in mind where you are planting the tree in its final location, especially if this is in your garden or on your school site. Is the space big enough for the tree if it were to reach its maximum size, without causing damage to surrounding structures?
How do I care for my tree?
As the tree grows ensure you clear (not just cut), all grass and weeds within 1 square metre. These compete with the tree for nutrients in the soil and may impede it's grow and health.
General maintenance including: watering when needed, removing broken branches, ensuring the tree is firm in the ground if it has been knocked by the wind.
If the tree is tied to a nearby stake to help keep it upright, ensure that the ties are loose to prevent rubbing or chafing against the tree.
Back to top